The restoration of Marine Chronometers is my specialty. I taught chronometer restoration at the American Watchmaker's Institute, and at 1995 National Meeting of the National Association of Watch and Clock Collectors. I am frequently recommended by the staff at the Hamilton watch service center operated by SMH in Lancaster, PA when collectors call to have their Hamilton chronometers restored.
Every chronometer owner should own (and read) Marvin Whitney's Ship's Chronometer by AWI Press. This book had been in print since it was published in 1984. It has recently gone out of print and must be found in the used book market. It is the bible of chronometers and worth the effort to locate.
For things to look out for when buying a chronometer, go to my Rogue's Gallery .
Because of the extra attention required to the the finish and effort needed to recondition the decorated brass plates, traditional (non- Hamilton M21) chronometers are charged by estimate only. I can generally provide a "rough idea" of those charges over the telephone.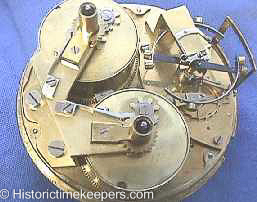 Mid 19th Century Breguet Chronometer after recent restoration
The basic service charge for the Hamilton M21 is $625.
Regardless of the instrument, the Basic Chronometer Service includes:
Complete disassembly
Plates, screws and steelwork cosmetically renewed without destroying the original finish (except for re-bluing)
All pivots burnished with a Jacot tool
All jewels inspected at 50x
Mainspring removed, checked for weaknesses, properly lubricated
Fusee chain inspected for potential failure points and simple repairs made
All historically important repair notes recorded
One year warranty
In addition to routine services, I am qualified to make virtually any part needed to restore your chronometer. In addition to the examples I have on line (making a balance staff and making a spring detent), I cut wheels and pinions, replace bezel set jewelling, repair fusee chains, etc.
In addition, I offer dial resilvering ($85) and box restoration services (by estimate). I can supply new replacement hands when required.
Additional parts for Hamilton chronometers are provided at the prices quoted on the Hamilton M21 Replacement Parts Page. Because parts are not available, replacement parts for all other chronometers are provided at the rates quoted on the Custom Parts Page. To see how I make new spring detents go to Making a Spring Detent.
Shipping and handling information can be found on the Chronometer Handling Page.