Replacement material for the Hamilton M21 chronometer is made in Switzerland to original factory drawings and specifications under contract to me. These parts are an exact fit, and eliminate the need for having parts custom made by a professional.
Double click on the image to view the part full size.
These are made of Beryillium Copper, as were the all but the earliest Hamilton detents. they are sold without the locking jewel or passing spring assembly.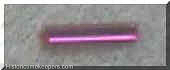 Model 21 locking Jewel $45
These are synthetic ruby and are the only parts made to slightly differnt specs than the Hamilton drawings. These are .02mm smaller than the original so that they can be used in the majority of "English" style detents.

Model 21 Escapement Jewels $35 each
These are used at all four escapement pivots. Any cracked jewel should be replaced or else the oil will be drawn away form the pivots, resulting in pivot breakage and expensive damage.

Model 21 Escape Wheel $145
These are sold without the hub or pinion. You reuse the old hub, and hopefully the old pinion.

Model 21 Escape Pinion $55

Model 21 Balance Staff $55
These parts are in stock. To order, see the Order Information Page for Professional Products only.
I have virtually all of the parts required to restore the M21s to their original function. If you need parts not listed here, please contact me using the information listed at the bottom of this page.