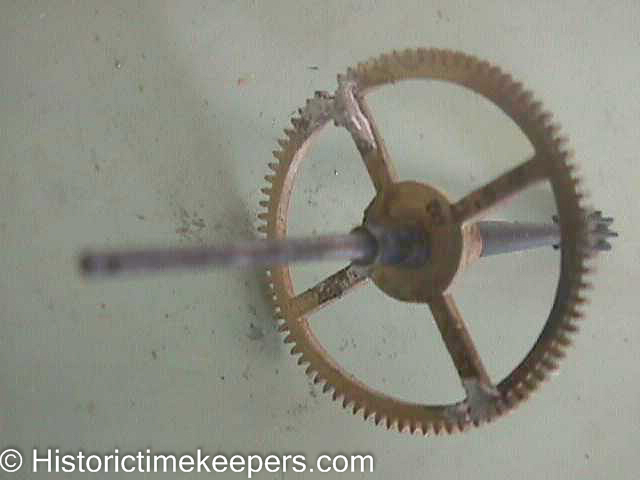 Part of restoration work involves replacing damaged gears and pinions. Gears are the large diameter brass parts with many teeth. Pinions are smaller in diameter and as a rule have no more than 12 leaves and are constructed of steel. The damage to this gear is obvious. The new gear must be of the same diameter and have the same number of teeth. If the restorer is lucky, one of the existing cutters will be the right size. However, there are many times when a cutter must be made.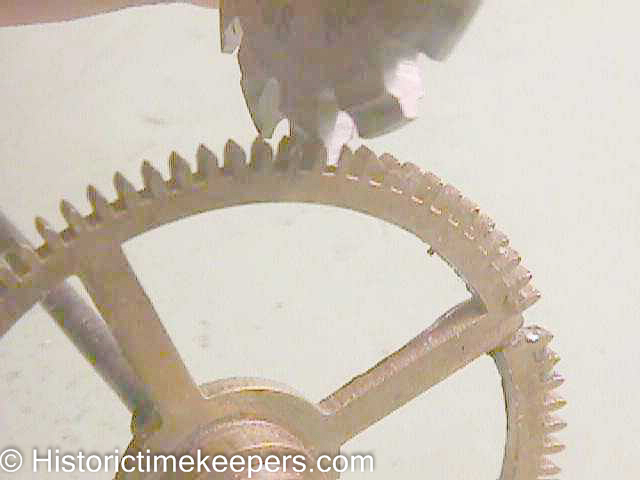 I was lucky on this wheel. A .35 module commercial cutter was a very nice fit between two undamaged teeth.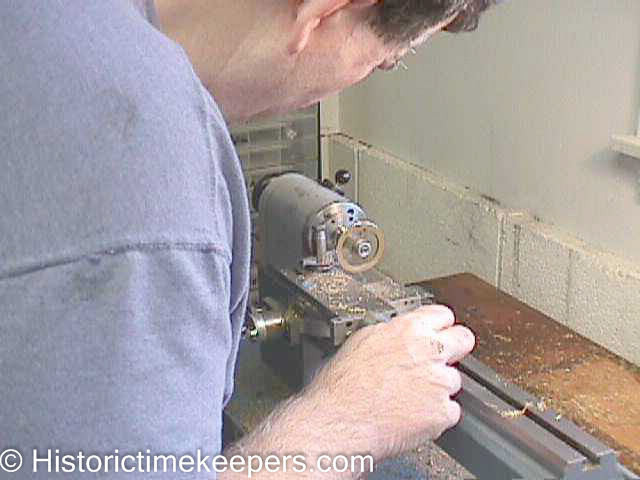 Turning a wheel blank to slightly oversize for the new gear.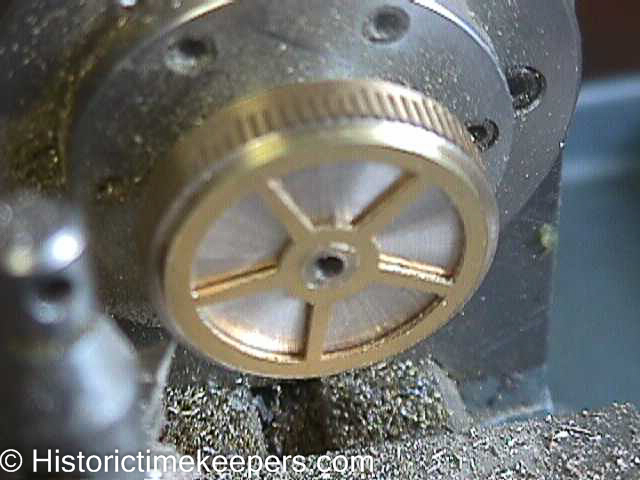 Fitting the turned wheel blank to an arbor that will support the wheel teeth against the forces generated during the cutting process.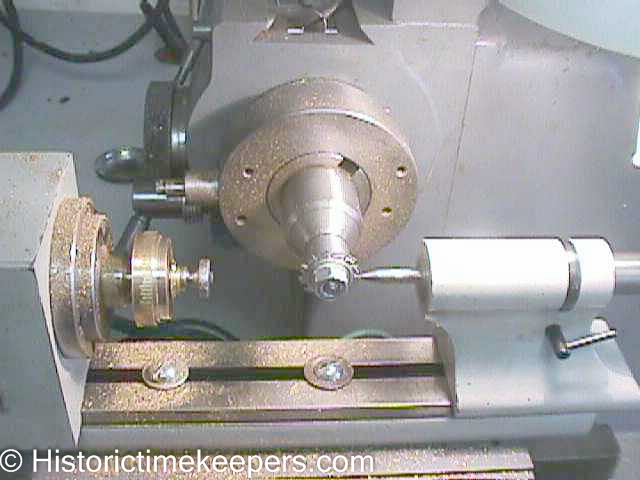 Here the wheel is mounted on its cutting arbor which is then mounted in a lathe headstock. The lathe headstock is mounted on a WW lathe bed machined to fit the table of a small horizontal mill. These mills are far more rigid than any wheel cutting engine ever sold for cutting horological gears. Plus, since they were made by the thousands for machine shops during the 40s and 50s and are now obsolete, they can be found at very reasonable prices. I then decided to machine an extra lathe bed so that I could use a WW lathe as my dividing head.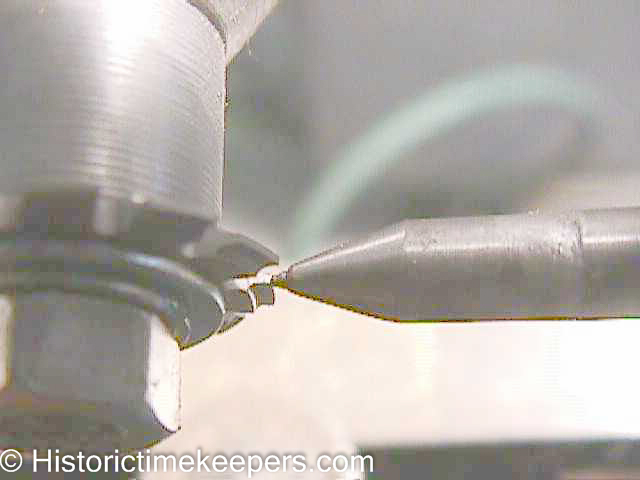 Since the lathe bed ensures the "truth" of the centers of my tailstock and headstock (they are an original paired set), I can use a male center in the tailstock to center my cutter. I can also use the tailstock to support the sttel stock when I am cutting pinions.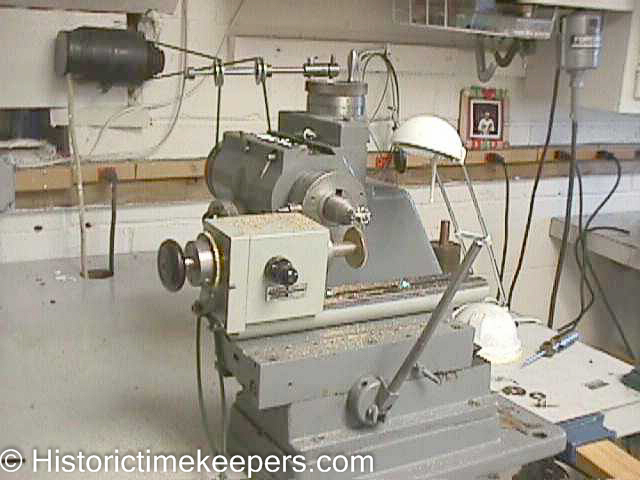 This is what the setup looks like. You can see the set of dividing plates to the left of the cutting set up. The correct dividing plate is mounted on the rear of the headstock. Dividing plates are discs with accurately located notches evenly spaced around their circumference. Different numbered plates allow you to cut gears with different numbers of teeth. Most sets go include plates between 50 and 100 divisions.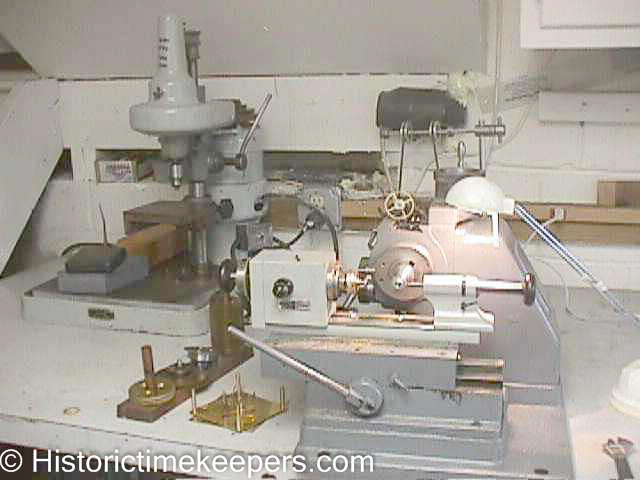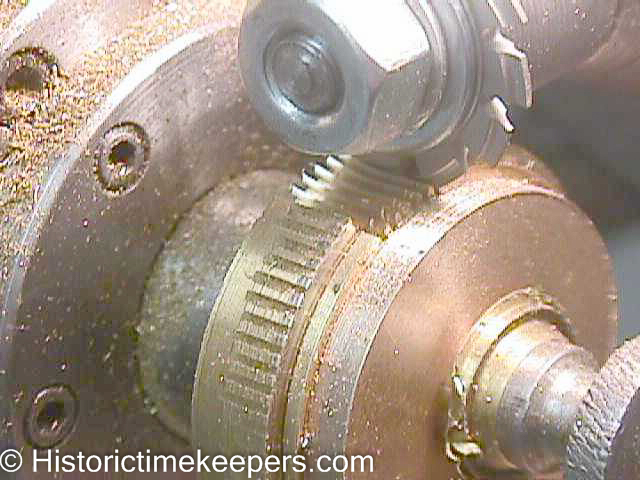 Cutting the teeth.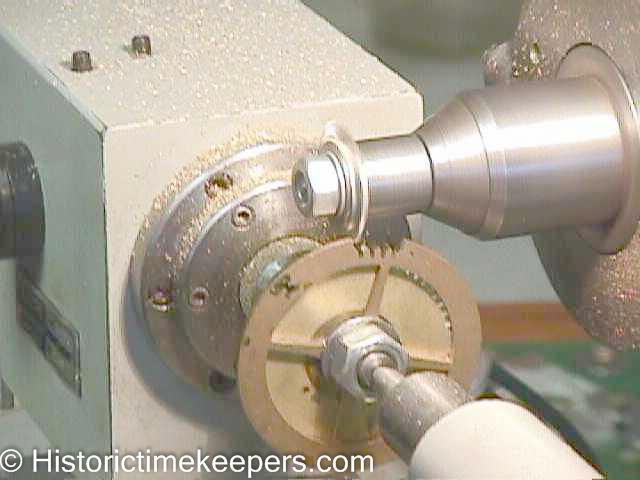 Another view of the teeth being formed (the new teeth are to the right of the cutter).
Checking the depthing of the new wheel with its mated pinion (mounted in the frames of the brass depthing tool) against the original holes in the clock plates.