If you have a Jaeger LeCoultre clock you need serviced, you will find services and charges listed on the Aircraft Clock Restorations and Repair Services page.
Before the Hamilton and Elgin 37500 Elapsed Time clock, the USN and US Army Air Corps specified the Jaeger LeCoultre A 10 Chronoflite. This clock is seen with dataplates for both services as well as in RAF/Air Ministry markings. After the US entered WWII, military timepieces from Switzerland became unavailable, spurring the War Department to require US manufacturers to create similar or better timepieces. The most famous example being the Hamilton M21 Ship Chronometer used for navigation which replaced the USN's pre war contracts for the Swiss Nardin chronometer.
These clocks are very difficult to find, especially with US military markings. They were used more extensively in RAF bombers are generally found with "Smiths" ( a British vendor) on the dial. Although infrequently found, they seem to show up in USA AC USAAF and USN Beau. Aer. markings equally. They also appear in USAF markings and were specified into the 1950s after Hamilton ceased its war production of the 37500 in 1945 and the assembly line was disassembled.
These instruments were provided with three grades (Elapsed Time; Elapsed Time with 60 minute Center Seconds Chronograph, and Elapsed Time, Center Seconds Chronograph with Civil Date Function). All configurations have a large 2 3/4 inch dial opening. The USN seems to have predominantly used the most complicated clock while the Air Corps preferred those without the Civil Date function. In addition these clocks were provided with either a 24 hour dial (USN) and 12 hour dial (USA AC). Finally, Pan America used the Civil Date LeCoultres in the Clippers and other airlines of the preWWII era likely used the LeCoultre clocks as well.
Unlike most aircraft clocks and any watch, the Swiss A 10 (which include the Breitling Wakmann) wind "backwards" and have no provision for reversing the winder. Every other clock and all watches include a clutch which prevents damage if the winding knob is reversed. It is not unusual to find that a Swiss A 10 has a broken winding wheel. Whether it is because crew could not judge their strength with heavy gloves before realizing they were reversing the knob, or that the clock fell into the hands of those unfamiliar with their operation will never be known.
Some attempt to "repair" this damage by "letting in" new steel teeth. There are times when this approach is appropriate on historically important and rare clocks in which the primary goal is to conserve every individual piece. But when we encounter this in aircraft winding parts, we make the required wheel or click out of steel as needed.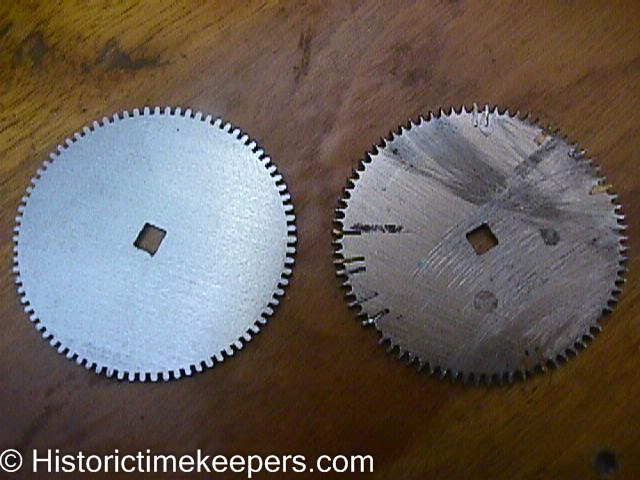 The process for making winding wheels is presented on the Making a Replacement Winding Wheel page.
This is one example of where it is our unique combination of skills and interest enable us to serve the Warbird community.
Other than the winding, these clocks provide many of the same features of the Hamilton and Elgin 37500 clock. However, they include a feature unique to the A 10. Unlike any other Elapsed Time clock, the Swiss A 10 (and its copy Russian "Mig" clocks) allow the crew to pause the Elapsed Time recorder with a knob at the midline of the clock. This enables the crew to stop the ET recorder, for example when parked at an airfield during refueling. In this way they can track Time of Trip without totaling the sum of the individual flight legs.
These clocks use a single mainspring and the damage from mainspring breakage is not an issue. At present we have not found it necessary to have unbreakable springs custom made for these clocks. However, we will have a run made when our stock of springs is exhausted.
These are the most expensive clocks we regularly offer because of the low survival rate of these timepieces. Available in RAF, USN, USAAF and USAF markings.
Price: $1300 to $1700 depending on dial and hand configuration. Because of the variability in configurations, call or email for photos of clocks that are currently available.